A redescoberta do storytelling: o sucesso dos podcasts não ficcionais como reflexo da viragem narrativa
Palavras-chave:
podcast, narrativa, jornalismo, storytelling
Resumo
O interesse pelo storytelling cresceu bastante nos últimos anos, de tal forma que esta se tornou uma buzzword. Essa sedução, particularmente a que é exercida pelas narrativas pessoais, tem hoje a sua maior expressão nas redes sociais, muito embora seja bem visível no jornalismo ou no entretenimento, entre outras áreas. Porém, é nos podcastsque encontramos um dos contextos mais vibrantes desta expansão: há hoje uma enorme diversidade e autenticidade num mercado estabelecido, para além de se desafiarem convenções e, sobretudo, de se repensar o lugar da palavra nos consumos mediáticos. A impulsionar o sucesso deste mercado tem estado a narrativa, a história contada com detalhe, frequentemente a história das pessoas sem história. Olhando para o desenvolvimento dos meios sonoros com a complementaridade dos estudos narrativos, identificamos este lento movimento de redescoberta que, após uma iminente extinção na rádio informativa, hoje coloca a narrativa no âmago dos podcastsmais bem-sucedidos. Através de uma revisão bibliográfica articulada com a análise de dinâmicas atuais dos meios sonoros e do seu consumo, situa-se este processo de mudança e explica-se como o podcastse estabeleceu como lugar de recriação e redescoberta da narrativa não ficcional e da história de longa duração.
Referências
Abel, J. (2015). Out on the wire: The storytelling secrets of the new masters of radio. New York: Broadway Books.
Arnheim, R. (1936). Radio. London: Faber & Faber.
Balsebre, A. (2000). El lenguage radiofonico. Madrid: Catedra.
Barthes, R. (1966). Introduction à l'analyse structural des récits. Communications, 8: 1-27.
Bauman, R. (1986). Story, performance, and event: Contextual studies of oral narrative. Cambridge: Cambridge University Press.
Benjamin, W. (1969). Illuminations: Essays and reflections. New York: Schocken Books.
Berry R. (2015). A golden age of podcasting? Evaluating Serial in the context of podcast histories. Journal of Radio & Audio Media, 22(2): 170-178. DOI: 10.1080/19376529.2015.1083363.
Berry, R. (2016). Podcasting: Considering the evolution of the medium and its association with the word 'radio'. The Radio Journal – International Studies in Broadcast and Audio Media, 14(1): 7-22. DOI: 10.1386/rjao.14.1.7_1.
Biewen, J. (2010). Introduction. In J. Biewen & A. Dilworth (eds.), Reality radio: Telling true stories in sound (pp.1-14). Durham: Center for Documentary Studies at Duke University.
Bonini, T. (2015). La "segunda era" del podcasting: El podcasting como nuevo medio de comunicación de masas digital. Quaderns del CAC, 41(XVIII): 23-33.
Bottomley, A. (2015). Podcasting: A decade in the life of a "new" audio medium: Introduction. Journal of Radio & Audio Media, 22(2): 164-169. DOI: 10.1080/19376529.2015.1082880.
Bull, M. (2004). 'To each their own bubble' – Mobile spaces of sound in the city. In N. Couldry & A. McCarthy (eds.), Mediaspace: Place, scale and culture in a media age (pp. 275-293). London: Routledge.
Crisell, A. (1998). Understanding radio. London: Routledge.
Czarniawska, B. (2004). Narratives in social science research. London: Sage.
Dahlstrom, M. (2014). Using narratives and storytelling to communicate science with non expert audiences. Proceedings of the National Academy of Sciences, 111(4): 13614-13620. DOI:
1073/pnas.1320645111.
Dean, M. (2014, 7 de novembro). Serial: Listeners of podcast phenomenon turn detectives – with troubling results. The Guardian. Consultado em from www.theguardian.com/tv-andradio/
/nov/07/serial-listeners-detectives-troubling-results
Edmond, M. (2015). All platforms considered: Contemporary radio and transmedia engagement. New Media & Society, 17(9): 1566-1582. DOI: 10.1177/1461444814530245.
Fludernick, M. (2006). An Introduction to narratology. New York: Routledge.
Goodson, I. & Gill, S. (2011). The narrative turn in social research. Counterpoints, 386: 17-33.
Ingram, M. (2018, September 20). Is the podcast bubble bursting?. Columbia Journalism Review. Consultado em www.cjr.org/the_new_gatekeepers/podcast-bubble-burst.php
Kreiswirth, M. (1995). Tell me a story: The narrativist turn in the human sciences. In M. Kreistwirth & T. Carmichael (eds.), Constructivist criticism: The human sciences in the age
of theory (pp. 61-87). Toronto: University of Toronto Press.
Kreiswirth, M. (2005). Narrative turn in the humanities. In D. Herman, M. & M.-L. Ryan (eds.), The Routledge encyclopedia of narrative theory (pp. 377-382). New York: Routledge.
Larson, S. (2015, 20 de fevereiro). "Serial," podcasts, and humanizing the news. The New Yorker. Consultado em https://www.newyorker.com/culture/sarah-larson/serial-podcasts-humanizing-news
Lewis P. & Booth J. (1989). The invisible medium: Public, commercial and community radio. Houndmills: MacMillan.
Lindgren: M. (2014) 'This Australian life': The Americanisation of radio storytelling in Australia. Australian Journalism Review, 36(2): 63-75.
Lindgren, M. & McHugh, S. (2013). Not dead yet: Emerging trends in radio documentary forms in Australia and the US. Australian Journalism Review, 35(2): 101-113.
Madsen, V. (2013). "Your ears are a portal to another world". The new radio documentary imagination and the digital domain. In J. Loviglio & M. Hilmes (eds.), Radio's new wave: Global sound in the digital era (pp. 126-144). New York: Taylor & Francis.
Markman, K. (2011). Doing radio, making friends, and having fun: Exploring the motivations of independent audio podcasters. New Media&Society, 14(4): 547-565. DOI: 10.1177/1461444811420848.
Meretoja, H. (2014). The narrative turn in fiction and theory. The crisis and return of storytelling from Robbe-Grillet to Tournier. New York: Palgrave Macmillan.
McHugh, S. (2012a) The affective power of sound: Oral history on radio. The Oral History Review, 39(2): 187-206.
McHugh, S. (2012b). Oral history and the radio documentary/feature: Introducing the 'COHRD' form. The Radio Journal International Studies in Broadcast & Audio Media, 10(1): 35-51.
McHugh, S. (2016). How podcast is changing the audio storytelling genre. The Audio Journal – International Studies in Broadcast & Audio Media, 14(1): 65-82.
McLuhan, M. (1964). Understanding media: The extensions of man. New York: Signet Books.
O'Meara, J. (2015). 'Like movies for radio': Media convergence and the Serial podcast sensation. Frames Cinema Journal, 8. [Online].
Meserko, V. (2015). The pursuit of authenticity on Marc Maron's WTF podcast. Continuum, 29(6): 796-810.
Page, R. (2011). Stories and social media. Identities and interaction. New York: Routledge.
Pink, D. (2006). A whole new mind: Why right-brainers will rule the future. New York: Riverheard.
Quah, N. (2018, 25 de setembro). Nope, there isn't a podcast bubble. Nieman Lab. Consultado em www.niemanlab.org/2018/09/nope-there-isnt-a-podcast-bubble/
Street, S. (2014). Poetry, Texas: Review 1. RadioDoc Review, 1(1). DOI: 10.14453/rdr.v1i1.3.
Winocur, R. (2005). Radio and everyday life: Uses and meanings in the domestic sphere. Television & New Media, 6: 319-332. DOI: 10.1177/1527476405276472.158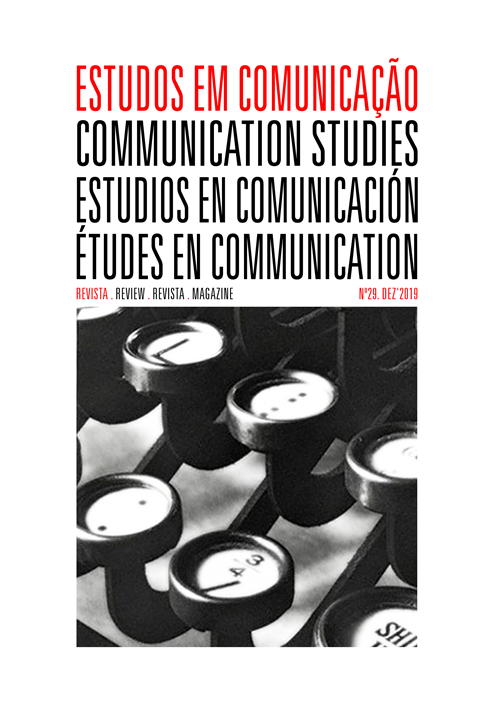 Downloads
Licença
Estudos em Comunicação / Estudos de Comunicação é um jornal de Acesso Livre. Todos os seus conteúdos estão disponíveis gratuitamente, sem custo para o utilizador ou para a sua instituição. O utilizador pode ler, baixar, copiar, distribuir, imprimir, pesquisar ou vincular aos textos completos dos artigos nesta revista sem autorização prévia do editor ou do autor. Estudos de Comunicação, por LabCom.IFP, está licenciado sob uma Licença Creative Commons Atribuição-Não Comercial-NoDerivs 3.0 Unported. Ao enviar seu trabalho para estudos de comunicação / estudos de comunicação, você confirma ser  o autor e  que possui os direitos autorais, que o conteúdo é original e anteriormente inédito e que concorda com os termos de licenciamento.